Buy Bojio Grunge Canvas Tote Bag for shopping carrier, book bag, lunch bag, outfit staple – the choice is yours. These tote bags can do the lot, big enough to carry a laptop.
Specification
Dimension: 44cm x 32cm (17.5inch x 12.5inch)
Handle: 26mm (19.5inch)
Material: Canvas
Color: Beech
Print: Vinyl or DTG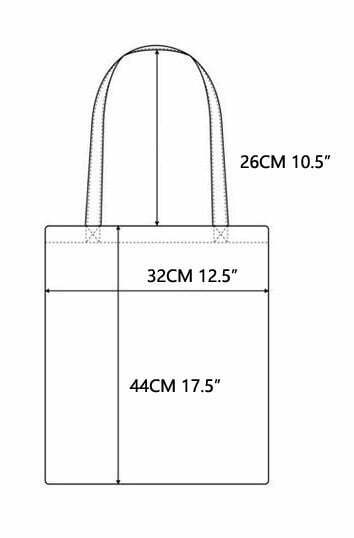 In order to preserve the design on your tote bag print, we recommend the following product care guidelines:
DO NOT DRYCLEAN.
Always turn your tote bag inside out before washing. This reduces the wear-and-tear of the canvas tote bag printed design and preserves it longer.
Wash similar coloured canvas tote bag together. This is to prevent colour leeching from dark coloured clothes to light coloured canvas tote bag.
Wash in cold (30 Degrees Celsius or below) water, either machine wash or by hand. Using hot water might cause printed designs to leech colours.
DO NOT BLEACH, avoid using softeners. Bleach can cause colours to run, and softeners may affect vinyl designs print on the canvas tote bag.
Avoid using hot dryers. The high level of heat may cause shrinkage of canvas tote bag, and may affect vinyl designs. When possible, dry your canvas tote bag under the shade with minimal direct contact with sunlight as prolonged exposure to UV rays will cause colours to fade.
Iron on low, and always iron the canvas tote bag turned inside out so as not to iron directly on print.